My 30's hit me like a headache and I was not prepared at all.
I used to hear people saying "you wait until you're 30 then you will see" and I couldn't understand what the big deal was, 28 or 30, it's just a number. Well, let me tell you it's not so simple. A lot of things change about your body in your 30's. Many of the things that used to work for your body in your 20's, won't do so anymore in your 30's. You'll perhaps start find a grey hair or two, experience changing moods, it takes you two full days to recover from a hangover but most importantly, your skin changes a lot.
Dermatologic Elizabeth Tanzi says "in your 30's estrogen levels start to dip, heralding sinking levers of skin-tightening collagen and elastin and skin-plumping hyaluronic acid. Cell turnover also slows and your skin bounces back less easily from inflammation. Dryness and acne are likely to show up during this decade too.''
So here is the hard truth in my case: you start seeing fine wrinkles around your eyes, you can see more obvious traces of the lines on your forehead, starting to see age spots, occasional acne and black spots and pimples. I must admit that until I turned 30, I never had problems with my skin. Almost never had pimples, my skin was not too dry not to oily, no wrinkles and a simple face mask after a bad night of sleep was good enough for me to look great again.
Are you over 30 and experience the same changes as me?
The last year I tried a ton of different creams, serums, face oils, face masks, remedies and so on, some of them gifted some them bought but the point is that none of those really fit my new skin especially during the cold season.
Two weeks ago I decided to stop spending money in many different products for my face and instead spend money in one and very good brand, such as Vichy.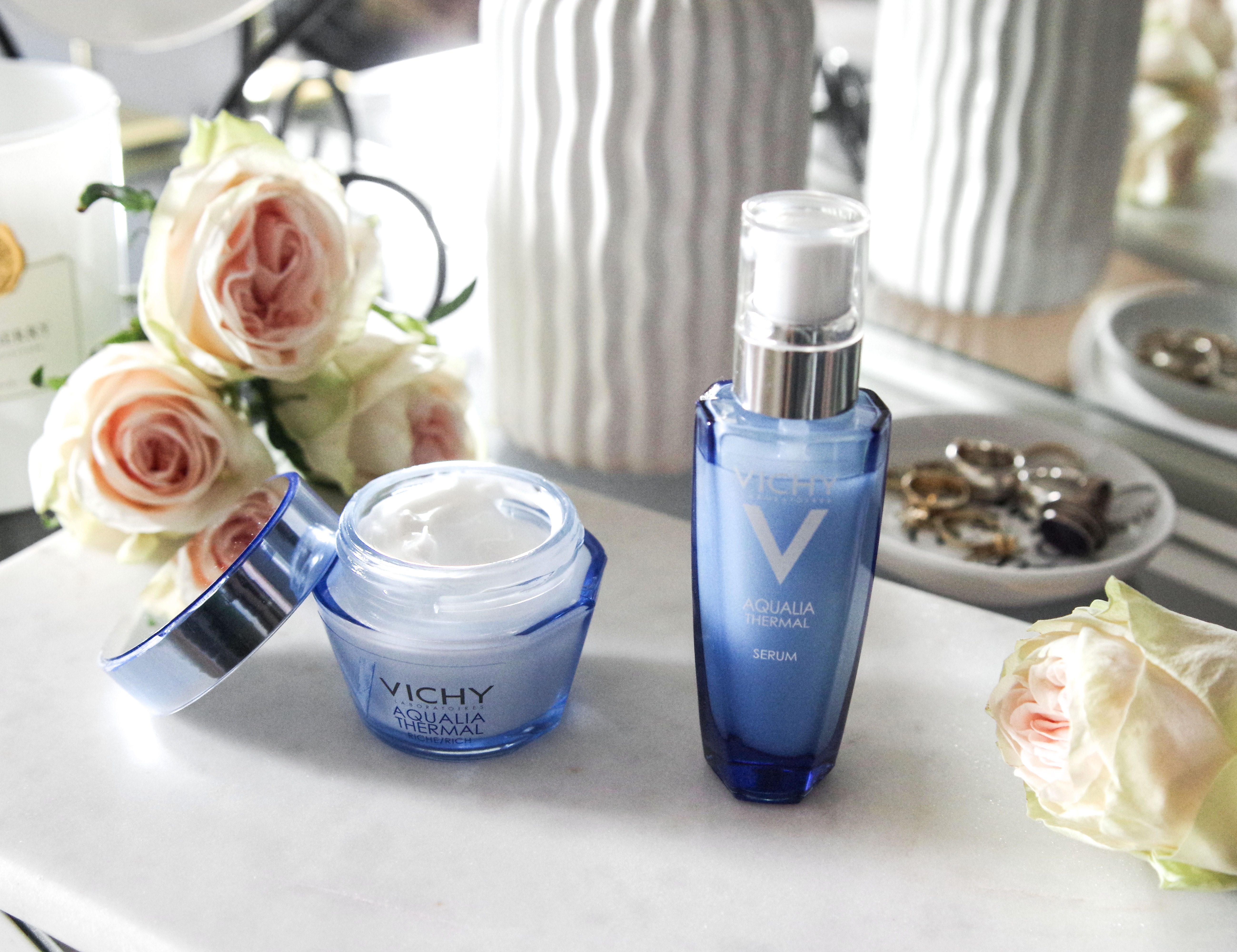 This is not a sponsored post for Vichy, just an honest recommendation.
By the pharmacist recommendation, I opted for Vichy Aqualia Thermal rich cream as a day cream. It is mostly for dry to normal skin such as mine, and promises to boost hydration and comfort. I've been using it for 2 weeks and can feel a bit difference in my skin, I feel it slowly starting to get back to normal. The cream has a great smell, the way it smooths over my skin and sinks in to really hydrate my skin all day long. I usually apply it in the morning, but also in the evening after I take my makeup off and I wake up with such a fresh sensation.
But to get an even better better hydration, I combine the cream with the Vichy Aqualia Thermal Serum. The texture of this serum is like milk and that's how your face feels after you apply these 2 products.
The best thing is that these products are not even that expensive, in fact they are quite affordable and practical even if you travel a lot. Personally I will cut down on products that don't even fit my skin type and start investing in better and less creams for better skin in my 30's. Who's with me?
I would also highly recommend Vichy IDEALIA HERE energising cream helps even skin tone, refine pores, and smooth fine lines plus deliver 24-hour hydration.
Do you guys have any face creams that helped improve your skin and would like to recommend it? Let me know in the comments below !